The Heart Failure Program at Saint Luke's Mid America Heart Institute is committed to the highest level of excellence in providing seamless and comprehensive care to patients across the heart failure disease spectrum. Our team is a multidisciplinary group of professionals dedicated to ensuring patient safety and optimal health outcomes for all patients.
What is Heart Failure?
What is Heart Failure?
The heart is a muscle that pumps oxygen-rich blood to all parts of the body. When you have heart failure, the heart is not able to pump as well as it should. Blood and fluid may back up into the lungs, and some parts of the body don't get enough oxygen-rich blood to work normally. These problems lead to the symptoms you feel.
When you have heart failure
With heart failure, not enough oxygen-rich blood leaves the heart with each beat. There are 2 types of heart failure. Both affect the ventricles' ability to pump blood. You may have 1 or both types.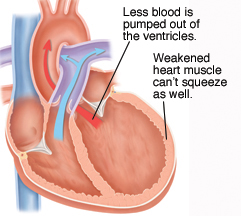 Systolic heart failure. The heart muscle becomes weak and enlarged. It can't pump enough oxygen-rich blood forward to the rest of the body when the ventricles contract. The measurement of how much blood your heart pushes out when it beats is called ejection fraction. In systolic heart failure, the ejection fraction is lower than normal. This can cause blood to back up into the lungs and cause shortness of breath and eventually ankle swelling (edema).  This is also called heart failure with reduced ejection fraction, or  HFrEF.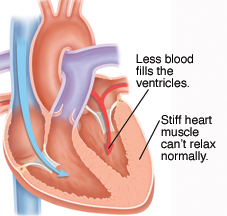 Diastolic heart failure. The heart muscle becomes stiff. It doesn't relax normally between contractions, which keeps the ventricles from filling with blood. Ejection fraction is often in the normal range. This can still lead to the backup of blood into the body and affect the organs such as the liver. This is also called heart failure with preserved ejection fraction or HFpEF.
Recognizing heart failure symptoms
When you have heart failure, you need to pay close attention to your body and how you feel, every single day. That way, if a problem occurs, you can get help before it becomes too severe. You'll need to watch for changes in your symptoms. As long as symptoms stay about the same from one day to the next, your heart failure is stable. But if symptoms start to get worse, it's time to take action.
Signs and symptoms of worsening heart failure include:
Rapid weight gain

Shortness of breath

Swelling (edema)

Fatigue
How heart failure affects your body
When the heart doesn't pump enough blood, hormones (body chemicals) are sent to increase the amount of work the heart does. Some hormones make the heart grow larger. Others tell the heart to pump faster. As a result, the heart may pump more blood at first, but it can't keep up with the ongoing demands. So, the heart muscle becomes even more weak. Over time, even less blood is pumped through the heart. This leads to problems throughout the body as organs began to feel the effects of a long-term lack of oxygen. Eventually, if untreated, this can cause problems with your lungs, liver, kidneys, and loss of elasticity in the skin, and skin changes in the lower legs. A weak heart itself can eventually cause a severe decline in health and possible death if left untreated.
What is ejection fraction?
Ejection fraction (EF) measures how much blood the heart pumps out (ejects). This is measured to help diagnose heart failure. A healthy heart pumps at least half of the blood from the ventricles with each beat. This means a normal ejection fraction is around 50% to 70%. Your doctor will calculate ejection fraction from an echocardiogram.
Understanding Advanced Heart Failure
Understanding Advanced Heart Failure and Ventricular Assist Devices
Heart failure is a chronic health problem. It's a gradual weakening of the heart. It's when your heart can no longer pump the amount of blood your body needs to work properly. Heart failure can affect the right, left, or both ventricles of your heart.
If the right ventricle of your heart is failing, your heart may have trouble filling up with enough blood. If the left ventricle is weak, your heart may not empty completely when it pushes blood out to the rest of your body. In either case, a ventricular assist device (VAD) can support one or both of your ventricles. It can help your heart pump blood throughout your body.
Heart failure happens over time. In its early stages, your heart may be weaker. But it may not be weak enough to cause any symptoms. As the condition worsens, or advances, though, you may start to suffer from tiredness (fatigue) and shortness of breath. These symptoms may occur only while exercising or doing activities such as climbing stairs.
Lifestyle changes and medicine can often help ease the symptoms of heart failure. You may feel better for a time. But your heart may continue to weaken and you may develop advanced heart failure. That's when you have symptoms even at rest. 
What are the symptoms of advanced heart failure?
In advanced heart failure, daily activities like dressing may become hard to do. You may feel extreme fatigue. You may also have swelling in your legs, ankles, feet, and belly (abdomen). Swelling happens because fluid builds up in your body.
Other symptoms of advanced heart failure include:
Trouble breathing while sleeping

Chest congestion

Weight gain from fluid buildup

Weight loss from a lack of appetite

Chest pain

Lightheadedness

Heart palpitations or flutters

Abnormal heart rhythms (arrhythmias)

Depression
Evaluating Your Heart
Heart Failure: Evaluating Your Heart
To evaluate your condition, your doctor will examine you, ask questions, and do some tests. Along with looking for signs of heart failure, the doctor looks for any other health problems that may have led to heart failure. The results of your evaluation will help your doctor form a treatment plan.
Health history and physical exam
Your visit will start with a health history. Tell the doctor about any symptoms you've noticed and about all medicines you take. Then you'll have a physical exam. This includes listening to your heartbeat and breathing. You'll also be checked for swelling (edema) in your legs and neck. When you have fluid buildup or fluid in the lungs, it may be called congestive heart failure.
Diagnosing heart failure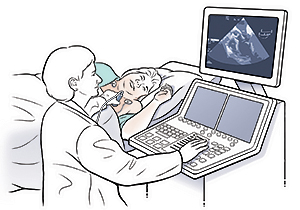 The following may be done to help your doctor form a diagnosis:
X-rays show the size and shape of your heart. These pictures can also show fluid in your lungs.

An electrocardiogram (ECG or EKG) shows the pattern of your heartbeat. Small pads (electrodes) are placed on your chest, arms, and legs. Wires connect the pads to the ECG machine, which records your heart's electrical signals. This can give the doctor information about heart function.

An echocardiogram uses ultrasound waves to show the structure and movement of your heart muscle. This shows how well the heart pumps. It also shows the thickness of the heart walls, and if the heart is enlarged. It is one of the most useful, non-invasive tests as it provides information about the heart's general function. This helps your doctor make treatment decisions.

Lab tests evaluate small amounts of blood or urine for signs of problems. A BNP lab test can help diagnose and evaluate heart failure. BNP stands for B-type natriuretic peptide. The ventricles secrete more BNP when heart failure worsens. Lab tests can also provide information about metabolic dysfunction or heart dysfunction.
Your treatment plan
Based on the results of your evaluation and tests, your doctor will develop a treatment plan. This plan is designed to relieve some of your heart failure symptoms and help make you more comfortable. Your treatment plan may include:
Medicine to help your heart work better and improve your quality of life

Changes in what you eat and drink to help prevent fluid from backing up in your body

Daily monitoring of your weight and heart failure symptoms to see how well your treatment plan is working

Exercise to help you stay healthy

Help with quitting smoking

Emotional and psychological support to help adjust to the changes

Referrals to other specialists to make sure you are being treated comprehensively
Medicines to Help Your Heart
Heart Failure: Medicines to Help Your Heart
Most heart failure patients take one or more types of medicine. Your healthcare provider will work to find the combination of medicines that works best for you.
Heart failure medicines
Here are the most common heart failure medicines:
ACE inhibitors lower blood pressure and decrease strain on the heart. This makes it easier for the heart to pump. Angiotensin receptor blockers have similar effects. These are prescribed for some patients instead of ACE inhibitors.

Beta-blockers relieve stress on the heart. They also improve symptoms. They may also improve the heart's pumping action over time.

Diuretics (also called "water pills") help rid your body of excess water. This can help rid your body of swelling (edema). Having less fluid to pump means your heart doesn't have to work as hard. Some diuretics make your body lose a mineral called potassium. Your doctor will tell you if you need to take supplements or eat more foods high in potassium.

Digoxin helps your heart pump with more strength. This helps your heart pump more blood with each beat. So, more oxygen-rich blood travels to the rest of the body.

Aldosterone antagonists help alter hormones and decrease strain on the heart.

Hydralazine and nitrates are two separate medicines used together to treat heart failure. They may come in one "combination" pill. They lower blood pressure and decrease how hard the heart has to pump.
Medicines for related conditions
Controlling other heart problems helps keep heart failure under control, too. Depending on other heart problems you have, medicines may be prescribed to:
Lower blood pressure (antihypertensives).

Lower cholesterol levels (statins).

Prevent blood clots (anticoagulants or aspirin).

Keep the heartbeat steady (antiarrhythmics).
Procedures That May Help
Heart Failure: Procedures That May Help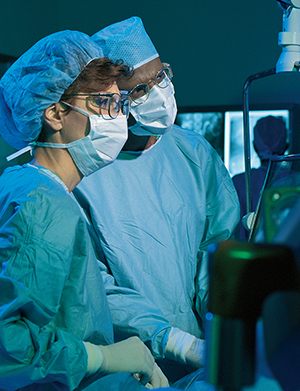 Treating artery and valve problems
If you have blocked arteries to the heart (coronary artery disease) or valve disease, procedures may be done to improve blood flow. This helps the heart pump better, which can improve heart failure symptoms. First, your doctor may do a cardiac catheterization to help detect clogged blood vessels or valve damage. During this procedure, a  thin tube (catheter) in inserted into a blood vessel and guided to the heart. There a dye is injected and a special type of X-ray (angiogram) is taken of the blood vessels. Procedures to open a blocked artery or fix damaged valves can also be done using catheterization.
Angioplasty uses a balloon-tipped instrument at the end of the catheter. The balloon is inflated to widen the narrowed artery. In many cases, a stent is expanded to further support the narrowed artery. A stent is a metal mesh tube.

Valve surgery repairs or replacement of faulty valves can also be done during catheterization so blood can flow properly through the chambers of the heart.
Bypass surgery is another option to help treat blocked arteries. It uses a healthy blood vessel from elsewhere in the body. The healthy blood vessel is attached above and below the blocked area so that blood can flow around the blocked artery.
Treating heart rhythm problems
A device may be placed in the chest to help a weak heart maintain a healthy heartbeat so the heart can pump more effectively:
Pacemaker. A pacemaker is an implanted device that regulates your heartbeat electronically. It monitors your heart's rhythm and generates a painless electric impulse that helps the heart beat in a regular rhythm. A pacemaker is programmed to meet your specific heart rhythm needs.

Biventricular pacing/cardiac resynchronization therapy. A type of pacemaker that paces both pumping chambers of the heart at the same time to coordinate contractions and to improve the heart's function. Some people with heart failure are candidates for this therapy.
Implantable cardioverter defibrillator. A device similar to a pacemaker that senses when the heart is beating too fast and delivers an electrical shock to convert the fast rhythm to a normal rhythm. This can be a life saving device.
Treating high pressure in the lungs
CardioMEMS is an FDA-approved heart failure monitoring system that helps patients experiencing high pressures in the heart and lungs. The system informs patients of any ongoing pressure, detects fluid buildup, and is proven to reduce hospital admissions and readmission.
In severe cases
In more serious cases of heart failure when other treatments no longer work, other options may include:
Ventricular assist devices (VADs). These are mechanical devices used to take over the pumping function for one or both of the heart's ventricles, or pumping chambers. A VAD may be necessary when heart failure progresses to the point that medicines and other treatments no longer help. In some cases, a VAD may be used as a bridge to transplant.
Heart transplant. This is replacing the diseased heart with a healthy one from a donor. This is an option for a few people who are very sick. A heart transplant is very serious and not an option for all patients. Your doctor can tell you more.
Community Resources
American Heart Association
American Association of Heart Failure Nurses (AAHFN)
Heart Failure Society of America, Inc. (HFSA)
Patient Hub
Learn about risk factors, symptoms, and stages; explore tools to help patients; find external resources; and more.
Heart Failure Awareness 365
Practical and educational information on specific heart failure-related topics, podcasts and newsletters with monthly updates.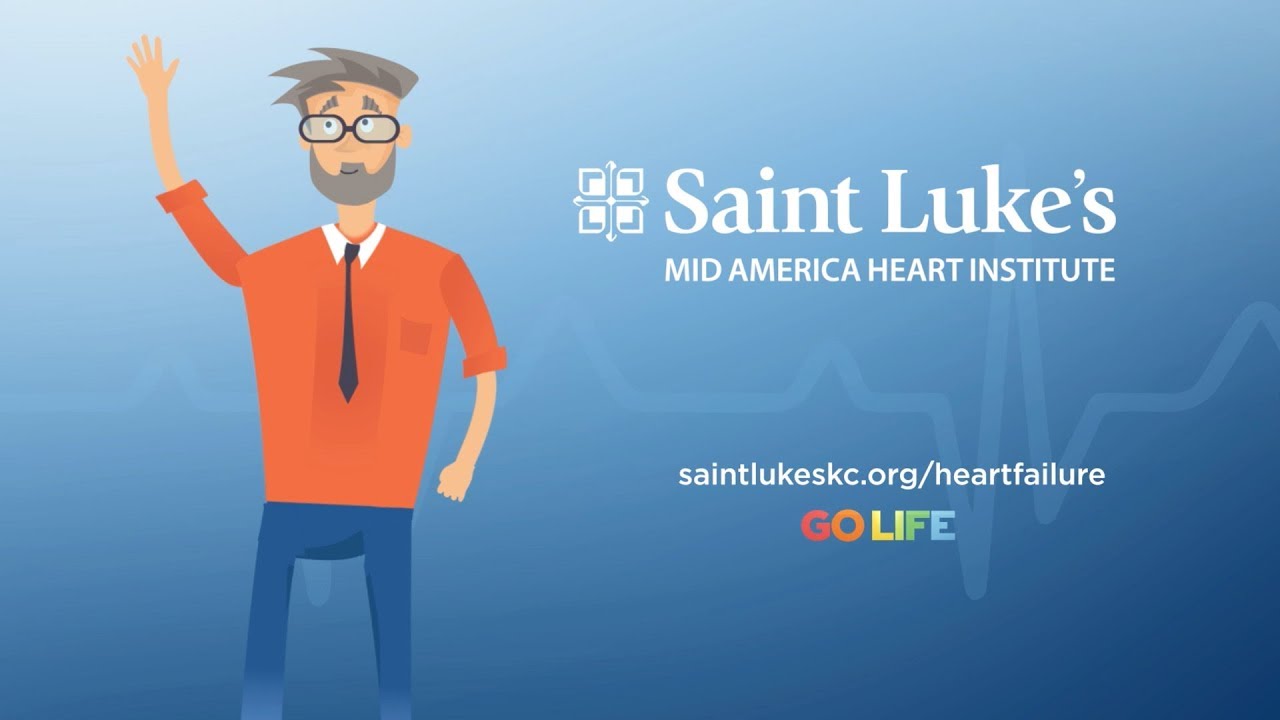 Saint Luke's Cardiovascular Consultants
A leader in cardiac care, Saint Luke's Cardiovascular Consultants treats patients throughout the Kansas City area and surrounding communities. Our medical team consists of both board-certified clinical cardiologists as well as physicians certified in specialty areas of cardiology including interventional cardiology, echocardiography, nuclear cardiology, preventive cardiology, and electrophysiology.