Since 1975, Saint Luke's Hospice – one of the region's first hospice programs – has provided passionate, comforting care to patients and their families in 22 Missouri and Kansas counties. Our goal is to help patients and their families manage the physical, emotional, and spiritual challenges that occur at the end of life so they can stay focused on spending quality time together.
We provide patient-centered, individualized care plans wherever the patient needs care, whether at home, an assisted living or nursing facility, or through Saint Luke's Hospice House. The multidisciplinary hospice team uses the latest methods and medications to manage patients' pain and their physical, emotional, and mental symptoms to help patients live as fully and comfortably as possible.
Patients and their families have 24/7 access to consultative care and physicians, nurse practitioners, nurses, home health aides, therapists, social workers, chaplains, grief coordinators, and trained volunteers. Our hospice team has experience and certifications concentrated in end-of-life care.
Hospice services include:
Pain and symptom management
Medication management
Daily care
Dietary and nutrition services
Cardiac care management
Chronic disease management
Geriatric care
Wound and ostomy care
Medical equipment available within four hours; no authorization required
Qualifying medical supplies and medication
Saint Luke's Hospice House inpatient care, if medically eligible
We also offer specialized programs:
Music therapy reduces pain, increases relaxation, and improves focus
Veteran-to-Veteran honors patients who served our country
Pets on Call brings the comfort and companionship of specially-trained dogs and cats to patients and their families
Eleventh Hour supports patients in their final hours upon request by family members
Grief support helps patients and families cope
Hospice services require an evaluation and physician's order for admission. However, some indicators that it's time for hospice care include a patient having:
Three or more hospitalizations within the past three to six months
A terminal condition with life expectancy of less than six months
A steady physical and mental decline and wish of being comfortable without prolonging life by resuscitation or life support
Our dedicated admissions team has expertise in communicating with worried patients and families about what to expect. Our rapid-response, same-day admission process offers convenience and reassurance to those who need immediate help.
Call 816-756-1160 for more information, including whether you or your patient qualifies for hospice care services.
Saint Luke's Care Choices
Saint Luke's is proud to be the only provider in the Kansas City metro area selected by Centers for Medicare and Medicaid Services (CMS) to take part in an innovative pilot program that encompasses all aspects of care—palliative care, end-of-life care, and 24/7 on-call support services—for patients who are pursuing an aggressive plan of treatment.
About Hospice
What is Hospice?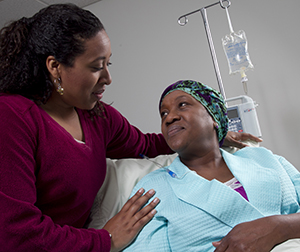 Hospice provides comfort and support to people nearing the end of life. This helps them and their family let go with dignity. Hospice focuses on quality of life. And it helps someone live his or her last days with a sense of control. Hospice programs support both the patient and family. They include physical, emotional, and spiritual services. This sheet tells you more about hospice. It may help you decide if this care is right for you or your loved one.
The goals of hospice
Hospice is a special type of care for people with illness for which there is no cure. Its goal is not to shorten life. Instead, the goal is to give comfort and support to a dying person and his or her loved ones. Hospice care helps to ease disease symptoms, like pain, nausea, and breathing problems. It also helps to meet the emotional and spiritual needs of a dying person. And those of his or her family and friends.
Qualifying for hospice
A person with an illness can go into hospice when a healthcare provider believes he or she has about 6 months or less to live. Hospice care can be used by people in the end stages of cancer, severe lung disease, heart failure, and other diseases. Hospice continues as long as it is needed. If a person's health improves, he or she can end the hospice care and start it again later. Also, a person in hospice has the right to leave hospice care at any time for any reason.
The services of hospice
Hospice is most commonly provided in the home. It can also be offered in the nursing home, assisted living facility, or hospital depending on the person's care needs. Hospice care is provided by an interdisciplinary team, which includes doctors, nurses, and other healthcare professionals. A registered nurse case manager, also known as a RN Case Manager, coordinates care provided by the hospice team. He or she also provides skilled nursing care as needed. The RN Case Manager makes weekly to daily visits based on the needs of the client and his or her family. Hospice also offers access to a social worker, home health aide, counselor, chaplain or another spiritual advisor, and others. If hospice is done at home, family members give day-to-day care. Support is given to the patient and family in many ways. These may include:
Making sure medicines are given for the comfort of the patient

Helping the family set up the home

Supplying medical equipment as needed

Helping the family arrange 24-hour care

Helping the patient and family find emotional, spiritual, and financial resources

Managing contact between the patient, family, and healthcare providers

Bereavement care (helping those in mourning) must be available for a year after the patient's death
Common questions and misunderstandings about hospice
Patients, families, and others may have questions and misunderstandings about hospice care:
Hospice is not a place. It is a model of care, not a physical location. It may be provided in the patient's home, nursing home, or in another institution.

Hospice offers a specific treatment only. Patients receive treatments and interventions to maximize comfort and quality of life. In some cases, patients may continue to receive the same treatments they received before hospice, such as palliative chemotherapy, radiation, and heart failure treatments. In addition, hospice care is flexible in the sense that patients can come and go from hospice at any time. Reasons for this include if it is not meeting their needs or if a new treatment becomes available that is not able to be covered by hospice. Once patients leave hospice, they may return to the program at any time if they qualify, such as being determined by a healthcare provider that these patients only have 6 months or less to live. .

Patients do not need to be actively dying to receive hospice care. Patients must have an estimated 6 months or less to live to receive hospice. 

Do patients have to be DNR to receive hospice? In the U.S., patients are not legally required to have made arrangements for "Do not resuscitate" (DNR) to receive hospice care. Patients must be informed that participating in hospice is a choice to accept that death is looming and that aggressive life-sustaining treatments are not part of hospice. These treatments include ventilator therapy, intensive care, and vasopressors.

What happens if a patient is still alive after 6 months? Around 10% of hospice patients live longer than the 6-month limit. When this happens, the hospice staff must discharge the patient from hospice or process a recertification in which it is explained that the patient is declining through dementia, for example, with death likely within 6 months. Among patients discharged from hospice, a high percentage are hospitalized or die soon thereafter.

Hospice care does not shorten life or bring about death. In fact, hospice patients have been shown to last longer as compared to similarly ill patients who do not receive hospice care. 

Some patients fear that their primary health care provider will abandon them if they choose hospice care. This will not happen because the primary health care provider plays an important role in the care of the hospice patient.    
Who pays for hospice?
Medicare and Medicaid cover hospice care for people age 65 or older. Most health insurance companies also cover hospice care. Hospice is usually available at no extra charge as a free benefit.
Hospice and Palliative Care Planning
Hospice and Palliative Care: Planning
When a person is diagnosed as being terminally ill, it means the illness can't be cured and he or she is going to die of their illness. Death is not a subject that many people like to talk about. When diagnosed with a terminal illness, some people are able and willing to talk about their coming death. But other people are not. Family and friends may also be more open or less open to talking about these issues. Talking with healthcare providers and spiritual leaders can help.
How shall I die?
Many terminally ill people have trouble thinking about how they would like to die. There are many confusing, unexpected, and unwanted choices that need to be made. Here are a few things dying people might consider:
Where do I want to die? At home, in a hospital, or at a hospice facility?

How do I want to die? Alone or with family?

What do I want or need to do before I die?
There are no right or wrong answers to these questions. When people begin to think about their own or their loved one's death, many spiritual and emotional issues arise. This can be a hard topic for the family and caregivers to talk about. They should listen and help sort through these issues.
How shall I live before I die?
When a person knows death is near, he or she may search for the meaning of his or her life, illness, and coming death. This is a difficult journey that may lead the person down many different paths.
Once the person has come to some sort of terms with illness and death, he or she might then consider relationships with family and friends. Often when people are dying they become closer with their loved ones and want to spend more time with them. Here are a few ideas that may help terminally ill people during these times:
Praying for others

Listening to family and friends

Sharing wisdom

Writing a poem or a family history

Being involved as much as they can in things that are satisfying to them
Spiritual and ethical decisions
When confronted with death, many people wonder how they will be remembered. There are many ways for people to create a sense of meaning for themselves before they die. Here are 4 ways people can find meaning in their lives:
Leaving a legacy. People who are coming close to death find that leaving a legacy provides comfort and meaning to their lives. Ways of leaving a legacy can include writing or making a tape of the family history, dedication to a cause, or creating a family heirloom.

Storytelling. Remembering and sharing life stories can help people to make meaning of their past, present, and future. Storytelling can also bring families closer together and help people build stronger connections with their loved ones.

Prayer, meditation, and journal writing.Prayer is very helpful in allowing people to review their lives and find out who they are. It can be done verbally, in a journal, or through meditation. When people are dying, they often use prayer to help them cope, ease pain, and relieve stress during treatments and surgeries. Prayer also gives people a sense of hope when they feel that there is nothing to hope for. When some people are very close to death, they feel that praying for their loved ones helps them feel better about leaving them.

Dedication to a mission or cause. This can create a sense of self-worth and purpose. Some people believe that it helps them to see life differently. A few types of missions or causes are antismoking campaigns, cancer research funding, cancer support activities, and writing about the experience of cancer.
Advance directives
An important part of palliative care is making sure the person's wishes at the end of life are addressed. When a person is terminally ill, legal and ethical issues may arise, such as making advance directives, and deciding about the use of life support and resuscitation efforts. The Patient Self-Determination Act of 1991 states that patients may state their last wishes (or advance directives) in writing. One form of advance directive is a living will. This document becomes important when people are not able to make or express their own wishes regarding their care. In a living will, a person describes what type of life-sustaining measures can or can't be used for their care. Another option is to name a person who is responsible to make these decisions when the person can't. This is done through a power of attorney for health care. The hospice team or other healthcare providers can discuss advance directives with people and their families.
Starting Hospice
Starting Hospice
If you are thinking about hospice, you know that the decision can be a difficult one. It means that you or your loved one is nearing the end of life. It is normal to feel very emotional when hospice is discussed. You or your loved one's healthcare providers can help guide you in making the decision. But keep in mind that the goal of hospice is to provide comfort. This is done for both the person who is ill and his or her family. Hospice is about ensuring quality of life during the time a person has left. Emotional and practical matters are taken care of while symptoms are controlled.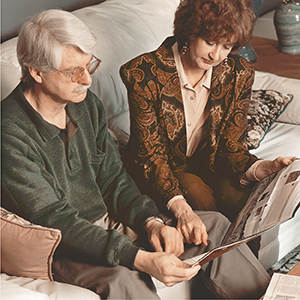 Beginning the hospice process
A healthcare provider must confirm that you or your loved one qualifies for hospice. A person with advanced cancer, heart failure, severe lung disease, or other illness can go into hospice when a health care provider believes he or she has about 6 months or less to live. You can then choose a hospice to make this time as comfortable as possible.
Choosing a hospice
When you are looking at hospices, ask questions. What are their services? Where do they provide care—at home or in a facility? Ask for a copy of the hospice's Patient's Rights and Responsibilities. To learn more about your local hospices, contact:
Healthcare providers or hospital staff

Your place of worship

The local agency on aging

The local Visiting Nurse Association 

Your local United Way

The Veteran's Health Administration office

State department of health or social services

The state hospice organization
The hospice team
Hospice is provided by a team. The team usually has a healthcare provider, nurse, and social worker trained in hospice care. It may also have a home health aide, spiritual counselor, volunteers, and others. The people receiving treatment are an important part of the team. They can voice their wishes and goals. If hospice is done at home, family members give day-to-day care. A hospice aide can make several visits each week to help with bathing and bathroom needs. The number of visits made by the hospice aide is decided by the hospice team and depends on the needs of each client. A nurse, social worker, and other professionals will also visit. A hospice nurse or healthcare provider is on call 24 hours a day to answer questions and handle problems. Ask your healthcare provider if he or she participates in a hospice program if you wish to stay under his or her care while enrolled in a hospice program. If he or she does not participate, your hospice care can be managed by the hospice program's medical director. 
Preparing for care at home
Hospice is often done in the home. Family members are the main caregivers, with support from the hospice team. The team may help you arrange care. They can provide medical equipment as needed. This may include a hospital bed, commode, oxygen, or other supplies. The hospice team can also help the family get breaks from caregiving. This is called respite care. For a short period of time, the person receiving hospice care can be put into a facility. This lets caregivers take care of other needs. If hospice is already being done in a facility, all of these things are taken care of on-site.
Physical care
Symptoms are treated. These include pain, nausea, anxiety, breathing distress, and sleep problems. The hospice program will provide medicines to ease these symptoms. Treatments that are no longer helping may be stopped. The team will discuss what treatment changes may be needed. Caregiver training may be given to family members.
Emotional care
Both the person receiving treatment and family members can get counseling. This is to help with anxiety, grief, family conflict, and spiritual issues. Bereavement support can continue up to 1 year after the person dies
Practical matters
The hospice team helps the person receiving treatment and family members understand the illness and how it progresses. They can help both the person and family members review choices so decisions can be made. The team can help with finding legal resources and answering insurance questions. And they give information about how to make funeral and memorial arrangements.
Stopping hospice
The person's primary care provider will have contact with the hospice team on a regular basis. If the person's health improves, he or she may no longer meet the terms for hospice or need hospice care. In this case, the person can end the hospice care and start it again later as needed. A person can go back to hospice at any time by being recertified by a healthcare provider. Also, a person has the right to leave a hospice at any time for any reason. A person can also change to a different hospice if he or she is not happy with the care.
The cost of hospice care
Medicare, Medicaid (in some states), most private insurance groups, and HMOs cover hospice care. Families may be asked to meet some costs that are not covered by insurance. Public and community support through donations, grants, memorial gifts, and fundraising events make it possible for hospices to cover the cost of care. People are generally not turned away for financial reasons.
Signs and Symptoms of Approaching Death
Hospice and Palliative Care: Signs and Symptoms of Approaching Death
Your hospice team's goal is to help prepare you for some of the things that might occur close to the time of death of your loved one. We can never predict exactly when a terminally ill person will die. But we know when the time is getting close, by a combination of signs and symptoms. Not all of these signs will appear at the same time, and some may never appear at all. All of the signs described are ways the body prepares itself for the final stages of life.
Your loved one may sleep more and might be more difficult to awaken. Hearing and vision may decrease.

There may be a gradual decrease in the need for food and drink. Your loved one will say he or she doesn't have an appetite or isn't hungry. This is the body's natural response to the dying process. The body is indicating that eating and drinking are no longer helpful—that the body can't use food and fluid properly anymore.
What to do: Allow your loved one to choose when and what to eat or drink, even if this means he or she will consume little or nothing at all. Your loved one will likely handle liquids more easily than solid food.
Your loved one may become more confused or restless, or experience visions of people and places.
What to do: Remind him or her of the time and the day and who is there with them. Be calm and reassuring.
Your loved one's hands, arms, feet, and legs may become cooler, and their skin may turn a bluish color with purplish splotches.
What to do: Use blankets for warmth. Do not use an electric blanket or heating pad.
Irregular breathing patterns may occur. There might be a space of time (10 to 30 seconds) when your loved one will not breathe at all. This is called apnea. There may be phlegm or increased secretions in the throat that are not painful, but are hard to clear with a weakened cough. This is often more bothersome to the caregivers.
What to do: Position your loved one on his or her side, with the head raised.
Contact your hospice team, or healthcare provider, at any time if you have questions or observe changes.
Nearest Locations

Grief Support Video Library
In this three-video library, you'll gain insight and find guidance on the grief process, including understanding how children grieve and recommendations to help you get through the first difficult year.