Allen County Regional Hospital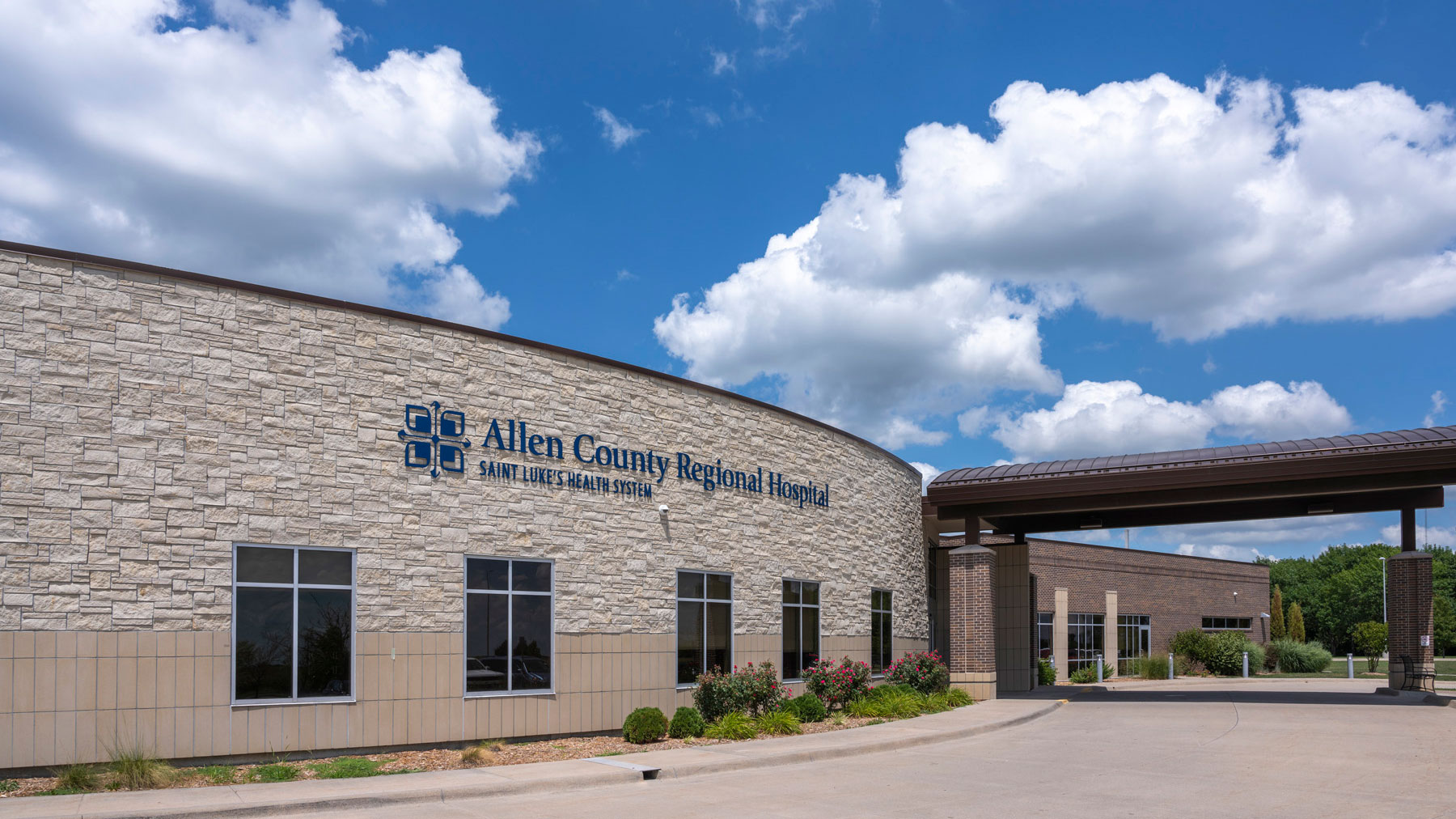 3066 N Kentucky St
Iola, KS 66749
620-365-1000
Billing: 620-365-1015
Medical records: 620-365-1166
Volunteer services: 620-365-1021
Allen County Regional Hospital provides exceptional care in a small-town environment. It is a critical access hospital that serves Iola, Kansas, and the surrounding area.
The hospital is designated a Level IV Trauma Center. Services include a state-of-the-art emergency department; advanced imaging; general surgery; inpatient care; inpatient and outpatient rehabilitation; senior life solutions; and wound care.
The hospital's specialty clinic offers access to specialists in a wide variety of specialty areas including cardiology; ENT; podiatry; urology; and more. Family medicine practitioners care for patients in the hospital, at primary care offices nearby, and in rural clinics located in Humboldt and Moran.
For patients requiring advanced care, Allen County Regional Hospital offers streamlined access to Saint Luke's expansive network of resources and experts in 65 specialty services. This ensures local residents receive compassionate care from some of the most experienced physicians in the nation in specialties like cardiology, neurology, and oncology.
LEADERSHIP
Steve Schieber, Interim Administrator 
Paula Littleton, Chief Financial Officer
Bev Shaul, Director of Nursing 
Karen Gillespie, Director of Human Resources
---
PATIENTS & VISITORS
Parking
Free parking is available for all patients and visitors at our hospital and specialty clinics.
Visiting guidelines
As we work to protect the health and safety of everyone at our hospital, we have temporarily revised our visiting guidelines.
Tobacco
Allen County Regional Hospital is a tobacco-free environment. All tobacco use, including e-cigarettes, is prohibited in all buildings, parking lots and garages, and all surrounding grounds of our facilities.
Dining options
The Allen County Regional Hospital cafeteria is located by the main lobby. Breakfast is served at 7 a.m., and lunch is offered beginning at 11:15 a.m. Evening meals for guests are not served in the cafeteria. Guests may request that meal trays be delivered to patient rooms. Vending machines are located by the cafeteria and in the emergency department waiting room. 
Sending mail/flowers
To ensure prompt delivery, mail and flowers should be addressed using the patient's full name and room number.
Gift shop
The Allen County Regional Hospital gift shop is located in the hospital's main lobby and offers greeting cards, snacks, and a variety of unique gift items.  The Allen County Regional Hospital Auxiliary staffs the gift shop, which is open Monday through Friday 9 a.m. – 4 p.m.
For questions, call the gift shop at 620-365-1258.
Spiritual wellness
The hospital chaplain provides requested services or can secure a practitioner of a specific faith. Ask a nurse or hospital operator for chapel assistance.
---
PATIENT INFORMATION
Insurance Accepted
Financial Assistance
Billing
Patient portal
Patients of Allen County Regional Hospital and Allen County Regional Hospital–Iola Clinic can access medical records at allencountyhospital.iqhealth.com.
Medical records
Request a copy of your, or someone else's, medical record by completing the Authorization for Release of Protected Health Information form (PDF).
Patient advocate
The Allen County Regional Hospital patient advocate serves as a liaison between patients, families or representative(s), and the hospital. To reach the patient advocate, call 785-204-7119. The advocate will typically respond to your concern within one business day.
Patient rights and responsibilities
High-quality patient care is a primary mission of Allen County Regional Hospital and Saint Luke's Health System. Patient rights and responsibilities improve care, treatment, services, and outcomes by protecting and promoting these rights.
Allen County Regional Hospital complies with applicable Federal civil rights laws and does not discriminate on the basis of race, color, national origin, age, disability, or sex. View patient rights and responsibilities.
Language assistance services
This is free of charge. Call 816-932-6145.
Preparing for your visit
Learn more about what to expect during your stay, safety and security, patient satisfaction, advance directives, and privacy.
Nominate a nurse
Nominate an extraordinary nurse for a DAISY Award.