Saint Luke's Sleep Disorders Program
Premier provider of sleep-related diagnostic and treatment services
Quality, restorative sleep is as important to your health as nutrition and exercise. Saint Luke's Sleep Disorders Center is a comprehensive, full-service program which diagnoses and treats a wide range of sleep disorders. 
Our physicians and staff specialize in sleep medicine, psychiatry, neurology, and respiratory care, providing advanced treatment for 87 sleep disorders.
Our network of sleep centers offers expansive services in seven hospitals throughout Kansas City and beyond, including state-of-the-art sleep clinics to monitor and diagnose disorders. 
Our Sleep Centers at Saint Luke's Hospital of Kansas City, Saint Luke's North Hospital, and Saint Luke's East Hospital are accredited by the American Academy of Sleep Medicine. These sites all provide overnight in-lab sleep testing as well as home sleep apnea testing.
Saint Luke's South Hospital, Anderson County Hospital, Hedrick Medical Center, and Wright Memorial Hospital offer home-based testing only.
Learn more about our sleep studies.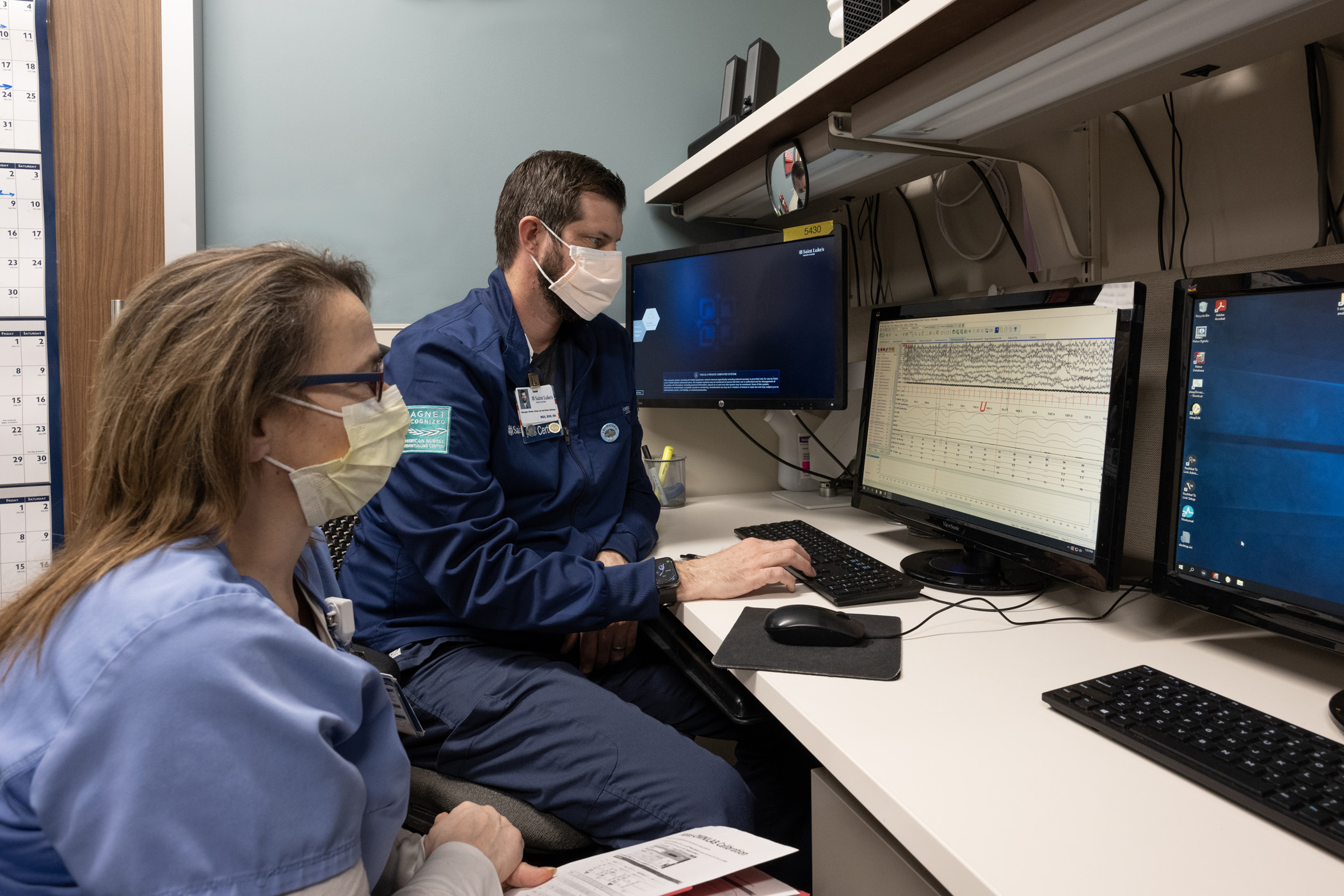 The Saint Luke's difference
To deliver high-quality care, ensure your comfort, and provide reliable results, we offer:
Board-certified sleep specialists with more than 50 years of combined experience in sleep, respiratory, and pulmonary medicine
Technical staff with more than 100 years of combined experience
Convenient overnight, daytime, and home sleep testing options
Bilingual staff and interpretive services
Large, hotel-like rooms 
Sleep disorder symptoms
Tired all the time
Don't feel refreshed, even after sleeping all night
Snoring
Stop breathing in your sleep
Daytime drowsiness
Trouble falling asleep or staying asleep
Often take sleeping pills to fall asleep
Shouting, kicking, or hitting while sleep
Tingling or burning feeling in legs when lying down or trying to relax
High blood pressure
If you regularly experience one or more of these symptoms, you may have a sleep disorder. Speak with your primary care doctor about your symptoms and request a referral to Saint Luke's Sleep Disorders Center.
Inspire: Treatment for sleep apnea
Saint Luke's offers the Inspire® Upper Airway Stimulation system, an implantable nerve stimulator used to treat moderate to severe sleep apnea. The implantable pulse generator detects the breathing pattern and maintains an open airway with mild nerve stimulation. 
The implantation is a same-day outpatient surgery, with multiple follow-up appointments over a few months to determine the optimal settings. Talk to your primary care physician to see if Inspire is right for you.
Locations
Saint Luke's Hospital Sleep Disorders Center
Saint Luke's North Hospital–Barry Road Sleep Disorders Center
Saint Luke's East Hospital Sleep Disorders Center
Hedrick Medical Center Sleep Disorders Center
Wright Memorial Hospital Sleep Disorders Center
Anderson County Hospital Sleep Disorders Center