Food as Medicine Everyday (FAME) Program
Whole Foods for the Whole Family
Evidence-based nutrition education where you learn simple techniques to cook tasty and healthy meals for the whole family.
Food as Medicine Everyday (FAME) is a 12-week program offering nutrition education classes on a variety of topics to help improve diet and lifestyle. You'll learn simple techniques to cook tasty, nutritious meals.
Introduction to Nutrients: Fats, Carbohydrates, Proteins, Vitamins & Minerals.
Reading Food Labels
Portion Sizes: The FAME Plate
Balancing Blood Sugar
Exploring Natural and Artificial Sweeteners
Benefits of Breakfast
Habits for Health
Strategies for Healthy Digestion
Healthy Eating on the Go
Nutritious Lunches and Snacks
Shopping Guide
Everyday Superfoods
Each participant will receive a copy of Food as Medicine Everyday: Reclaim Your Health with Whole Foods.
Saint Luke's Muriel I. Kauffman Women's Heart Center is a founding member of the Food as Medicine Institute Alliance.
Visit the Food as Medicine Institute for more information. 
For more information and to register, call 816-932-5784.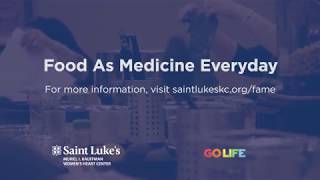 ---
Details
Location
Muriel I. Kauffman Women's Heart Center Conference Room
4401 Wornall Road
Kansas City, MO 64111
Dates
Winter/Spring: January 28 – April 14
Summer: May 19 – August 4
Fall: September 1 – November 17
Classes are every Tuesday from 6 – 7:30 p.m. in the Women's Heart Center conference room at Saint Luke's Hospital.
Price
Early-bird pricing
Available until two weeks before the series begins.
Individual: $195
Couple: $337
Regular pricing
Individual: $229
Couple: $399
---
Testimonials
Winter 2018
"There is so much information available about healthy eating, a lot of it being contradictory. I took this class to help discern how to change my diet for the better. This series was so much fun and practical. Not only do you learn about nutrition, but you also learn how to prepare food. I feel like I have the tools to be successful in making life style changes that will last."
– Heather, Lone Jack, MO
"As a trained Family Nurse Practitioner, I entered this course with a high level of nutrition and health knowledge.  The FAME course has succeeded in adding to my knowledge base as well as allowing for an opportunity to apply this education during the hands-on cooking segment. I learned new cooking techniques, recipes and explored new and delicious food choices. This course has exceeded my expectations as I have actually incorporated these new recipes and foods into my family's diet and look forward to sharing what I've learned with my family, friends and the community that I serve in."
– Alison, Shawnee, KS
"Over the last two years we have decided we have to be advocates for our health at a greater level than we had done in the past.  We had experienced difficulty resolving several medical issues over the past few years, and we have changed all of our medical providers.  When we learned about the FAME program, we felt this would be an important piece to understand and integrate into our increased advocacy.
The program and information has provided us with a renewed prospective on nutrition.
We had grown up in families that cooked traditional meals with the limited understanding of nutrition (available at the time).  The FAME classes have brought a new prospective to our health and nutrition.  It is comprehensive and allows hands-on experience preparing nutritional foods, understanding the real facts about nutrition, and preparation of foods.  The class is a good mix between lecture opportunity and preparation.  Additionally any questions that arise are answered. 
We hope this new understanding of nutrition will allow us to have many years of informed nutrition to support our health!  We recommend FAME to anyone interested in continuing and improving their nutritional health!"
- Janet and Steve, Kansas City, MO
"It was very beneficial when we cooked one of the FAME recipes as a class. It gave us a unique opportunity to put to use the healthy knowledge and techniques we learned from Lucas."
- Pat, Louisburg, KS