Saint Luke's offers a simple finger-prick blood test that will tell whether you have Hep C. The test is confidential and you'll find out your results within 30 minutes. Please contact Saint Luke's Liver Biliary & Pancreatic Center to schedule an appointment.
Hepatitis C: Should You Get Tested?
Hepatitis C: Should You Get Tested?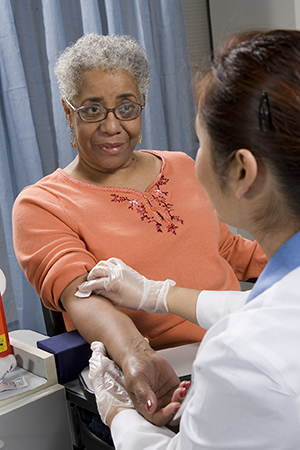 Hepatitis C is a disease that damages your liver. It can cause major health problems. You can even die from it. And you might not even know you have it. Hepatitis C is caused by the hepatitis C virus (HCV). This virus spreads from person to person through blood. You're at risk for hepatitis C if infected blood enters your body. Are you at risk for hepatitis C? If so, get tested.
When to get tested
Get tested if you have:
Shot up drugs, even once

Shared needles, syringes, cotton, spoons, water, or other works

Received blood or had an organ transplant before 1992

Received clotting factors made before 1987

Ever had kidney dialysis

Higher than normal levels of liver enzymes in your blood

Tested positive for HIV
It is recommended that people born between 1945 and 1965 have a one-time screening test. People with abnormal liver tests should have HCV antibody testing done. If you had any possible blood exposure, hepatitis C testing is required.
Other possible risks
Ask your healthcare provider about getting tested if:
You may have had contact with infected blood at your job.

You've had sex without a condom with someone who may be infected.

You've shared personal items, such as a toothbrush or a razor, with someone who may be infected.

You have tattoos or body piercings.
Saint Luke's Liver & Transplant Specialists
From liver transplantation to preventive care, Saint Luke's provides a full range of services for patients with disorders involving liver, bile ducts, and pancreas.