Adolescent Substance Abuse and Dependence
Saint Luke's Hospital of Kansas City's Crittenton Children's Center's chemical dependency intensive outpatient program (CD-IOP) addresses the physical, psychological, social, and spiritual needs of patients struggling with substance abuse. It uses the renowned and evidence-based Hazelden Matrix Model for Teens and Young Adults. Individual treatment plans include at least 10 hours of weekly individual, family, and group therapy. The program also involves compliance testing and extensive case management to engage support from school, court personnel, community mental health providers, support groups, and other individuals available to promote abstinence.
Our therapy addresses such topics as:
Risks associated with substance abuse
Family system concerns
Drug refusal skills
Enhancing personal protective factors
Minimizing risk factors
Increasing social connectedness
After-care
After-care services include continued attendance in CD-IOP groups, as well as personal contact with the substance abuse counselor to support patients and their families.
Youth may move back and forth within the continuum of chemical dependency services. They may also access Crittenton's hospital and residential programs, depending on personal need.
Recognizing the Signs of Substance Abuse in Teens
Recognizing the Signs of Substance Abuse in Teens
Teens are not adults. But they often have to make adult decisions about drugs and alcohol. Try to be aware of the pressures teens face and learn the signs of substance abuse. If your child has a problem with alcohol or drugs, take action. Your healthcare provider can help.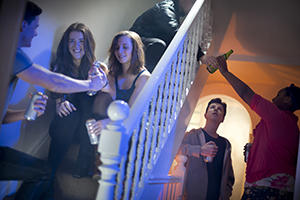 Why do teens abuse drugs?
Some of the most common reasons kids try drugs include:
Peer pressure. Teens often face intense pressure from their friends to try drugs.

Social anxiety. Teens may think drug use will help them fit in. Or they may believe it will make them more relaxed and outgoing.

Curiosity. It's normal for teens to want to find out about drugs for themselves.

Problems with school, parents, or sex. Teens often think that getting high will solve all their problems.
What are the warning signs?
It can be hard to spot drug use in teens. That's because their lives are often in turmoil. Also, many signs of drug abuse may be signs of other problems. These may include depression and eating disorders. You should be concerned if your teen:
Falls behind in school. A drastic drop in grades may signal a serious problem.

Withdraws from family and old friends

Gives up doing things they used to enjoy, such as playing sports or music

Lies or steals

Takes risks

Seems moody or depressed

Is very hostile

Gets in trouble with the law or at school
What you can do
Talk to your teen about drug use. Try not to react too strongly. Most of all, listen to what your teen has to say. If your teen is in trouble, talk with someone you trust. That might be your healthcare provider, a school counselor, or local mental health clinic. Many school districts now have drug abuse counselors who can help. Or contact one of the many groups that deal with drug abuse.
To help keep your kids away from drugs
Here are some ways to be involved:
Spend time with your teen. Do something together at least once a week.

Don't be afraid to ask questions. Find out where your children are going and who their friends are.

Try to be there when your children get home. The peak time for drug abuse is between 4 pm and 6 pm.

Don't lecture. Teens need to know they can come to you for help.

Be a good listener.
Resources
National Suicide Prevention Lifeline (crisis hotline)
www.samhsa.gov
800-273-8255 (TALK)
Saint Luke's Hospital of Kansas City Crittenton Children's Center
Saint Luke's Hospital of Kansas City Crittenton Children's Center treats the mental and behavioral health care needs of children, adolescents, and families – in Kansas City and across the region.