Palliative care or advanced illness management is a specialized area of medical care that improves patients' quality of life while they are receiving treatment for chronic or advanced conditions, such as:
Cancer
Heart failure
Alzheimer's disease or other dementias
Parkinson's disease
Amyotrophic lateral sclerosis (ALS)
Chronic obstructive pulmonary disease (COPD)
Patients are able to receive all of their treatment therapies, while also receiving pain and symptom management.
Our palliative care team is expertly trained to provide guidance in navigating many aspects of the health care system and collaborates with patients and their doctors on treatment. Our team can help at any stage of an illness, but it's best when services are initiated early. We provide care during a hospital stay, as well as in patients' homes.
We work closely with patients, their physician, and their family members to develop a tailored plan and help with:
Management of difficult-to-treat symptoms like pain
Education on the disease and treatment options
Advance care planning
Emotional and spiritual support
Accessing resources
Assistance with discharge planning
Palliative care services can be provided to patients in Saint Luke's metro hospitals or in patients' homes. Any patient with a serious, chronic illness can benefit from palliative care. Our team can assist at any stage of illness, even during active treatment.
The palliative care team at Saint Luke's Health System includes:
Doctors, nurse practitioners, and nurses
Social workers
Physical, occupational, and speech therapists
Chaplains
Call 816-932-0360 for more information, including whether you or your patient qualifies for palliative care services.
What Is Palliative Care?
What Is Palliative Care?
Palliative care is a way to improve quality of life for someone who's being treated for a serious illness. To palliate means to ease the symptoms of an illness. These may include pain, upset stomach (nausea), vomiting, anxiety, constipation, and sleeping and breathing problems. The people who are being treated and their loved ones are given emotional and spiritual support. Palliative care is given at the same time as traditional medical care. Active treatment for the illness doesn't stop. Palliative care is different from hospice care. Palliative care can be provided in many places. These include a hospital, clinic, nursing home, or the person's home.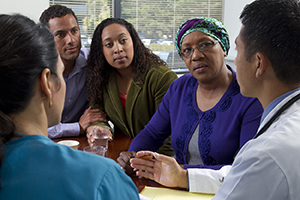 Goals of palliative care
Easing symptoms that cause distress . The main goal of palliative care is to ease symptoms. Symptoms may affect a person's ability to eat, be active, or spend time with others. Medicines and other methods are used. This gives the person a better quality of life while the illness is being treated.

Coordinating care. This helps to make sure that each provider is aware of the goals of care. Communication is done on a regular basis among all team members to make sure that the care goals are met.

Meeting emotional and spiritual needs. The care team helps both the person being treated and family members cope with stress, depression, anxiety, and other issues. They can set up meetings with a counselor or spiritual advisor as desired.

Giving information and helping with decisions. Care providers can help people and their families get the information they need. They can also help when care decisions need to be made.

Helping create an advance care plan. This is a series of legal documents that note a person's wishes for their future healthcare. It helps to make sure that if people can't speak for themselves, their wishes can still be carried out. The documents vary by state.
Working with your palliative care team
Palliative care is given by a team of people. They focus on the physical, emotional, and psychosocial aspects of advanced illness. The team may include a palliative care provider or nurse, social worker, pharmacist, dietitian, counselor, spiritual advisor, and others. To get the most out of palliative care, both the person and their loved ones have a role.
What a person who is receiving medical treatment can do
Tell your healthcare provider you're thinking about palliative care. Ask what palliative services are available in your area.
To ensure the best care, learn what you can about your illness and the goals of your care. If you're having pain and other symptoms due to a serious illness, ask your healthcare provider for a palliative care referral.
Treating these symptoms is best for your health and quality of life. If you need support in other ways, speak up. The care team is there to help you get what you need.
What a family member can do
Talk with the palliative care team often. Do your best to understand your loved one's illness and goals of care. When decisions need to be made, act on your loved one's wishes. And if you have a concern or question, speak up. You can help the team make sure that your loved one has the best quality of life possible.
News