Leg and Knee Exercises: Heel Raise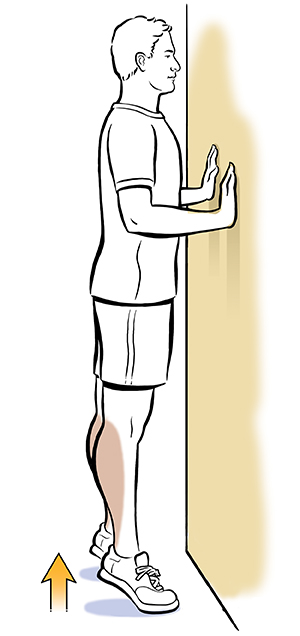 This exercise is designed to strengthen your knee and calf. Before beginning, read through all the instructions. While exercising, breathe normally and use smooth movements. If you feel any pain, stop the exercise. If pain persists, inform your healthcare provider.
Caution
Don't lock your knees.

Don't arch your back.
Stand with both feet flat on the floor, shoulder-width apart.

If you need support, steady yourself with your hand on a ledge, wall, or table.

Raise both heels so you're standing on your toes.

Hold for ______ seconds. Slowly lower your heels to the floor.

Repeat ______ times. Do ______ sets a day.
Note: As you become stronger, stand on one foot at a time, and raise that heel off the floor.