Exercises for Shoulder Flexibility: Wall Walk
Improving your flexibility can reduce pain. Stretching exercises also can help increase your range of pain-free motion. Breathe normally when you exercise. Use smooth, fluid movements.
Note: Follow any special instructions you are given. If you feel pain, stop the exercise. If the pain continues after stopping, call your healthcare provider:
Stand with your shoulder about 2 feet from the wall.

Raise your arm to shoulder level and gently "walk" your fingers up the wall as high as you can.

Hold for a few seconds. Then walk your fingers back down.

Repeat 3 times. Move closer to the wall as you repeat.

Build up to holding each stretch for  30 seconds.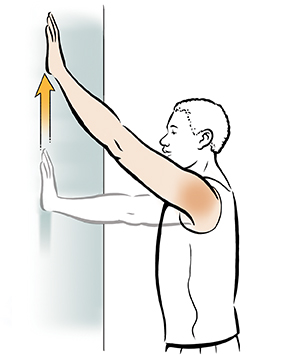 Caution
Do this stretch only if your healthcare provider recommends it. Don't do it when you are first injured.