Saint Luke's North Hospital–Barry Road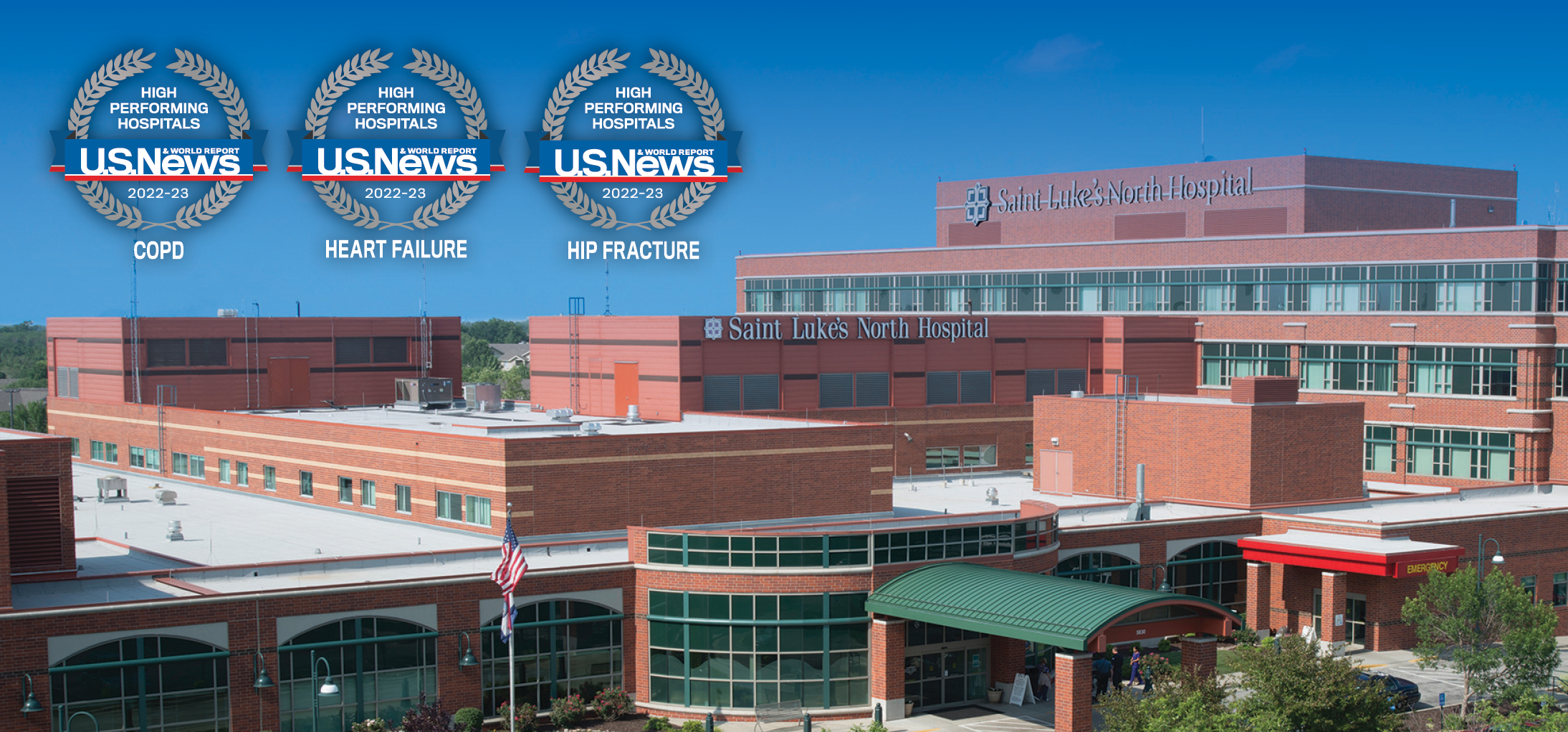 5830 NW Barry Rd   
Kansas City, MO 64154   
816-891-6000
Billing: 816-932-5678   
Gift Shop: 816-880-6746   
Pharmacy: 816-251-5591   
Spiritual Wellness: 816-880-6142  
Volunteer Services: 816-880-6250 

Over the past 30 years, Saint Luke's North Hospital–Barry Road has set the standard for patient satisfaction and convenient inpatient care in the Northland. Between our Barry Road and Smithville campuses, Saint Luke's North Hospital offers more than 160 patient beds and more than 20 specialized health care services.
We feature 24-hour emergency services, complete inpatient and outpatient diagnostic testing, a spacious maternity unit with Level II neonatal intensive care unit (NICU), comprehensive rehabilitation services, and on-campus physician offices.
Patients in our Emergency Department have access to lifesaving heart and stroke protocols developed by the world renowned Saint Luke's Mid America Heart Institute and Saint Luke's Marion Bloch Neuroscience Institute.
Saint Luke's North is certified in bariatric surgery by the Metabolic and Bariatric Surgery Accreditation and Quality Improvement Program (MBSAQIP) and holds a primary stroke certification from The Joint Commission. Our stroke program has also been recognized by the American Heart Association for positive patient outcomes.
LEADERSHIP  
Darren Bass, Chief Executive Officer   
Erin Parde, Chief Financial Officer   
Amy Brummer, Chief Nursing Officer   
Patrick Altenhofen, Vice President, Operations
---
PATIENTS & VISITORS
Parking and maps
Free parking is available for all patients and visitors. View our campus map (PDF).
Visiting guidelines
As we work to protect the health and safety of everyone at our hospital, we have temporarily revised our visiting guidelines.
Auxiliary
Saint Luke's North Hospital Auxiliary provides opportunities to give back to the hospital though fundraisers, events, and supporting hospital departments and programs. All are welcome to join.
Dining options
The cafeteria is located on the first floor of the hospital. To-go meals are available. Vending machines are located on the first floor outside the cafeteria.
Sending mail/flowers
To ensure prompt delivery, mail and flowers should be addressed using the patient's full name and room number.
Gift shop
Saint Luke's North Hospital Auxiliary Gift Gallery is conveniently located off the main lobby. It provides greeting cards, gift items, snacks, and personal items. Deliveries are available and we accept orders at 816-880-6746.
Hours:
Monday, Tuesday, Wednesday, and Friday: 10 a.m. to 2 p.m.
Spiritual Wellness
The chapel is located just off the main lobby. A chaplain is available during the hours of 8 a.m. to 4:30 p.m. for consultation. Please call Spiritual Wellness at 816-880-6142.
Smoking Policy
All Saint Luke's Health System locations are smoke-free environments—inside and outside. The use of tobacco, marijuana, electronic cigarettes, and vapes is prohibited in all buildings, parking garages, and surrounding grounds of our hospitals and facilities.
---
PATIENT INFORMATION
Insurance Accepted
Financial Assistance
Billing
Patient advocate
The Saint Luke's North Hospital Patient Advocate serves as a liaison between patients, their families or representative(s), and the hospital. Call 816-880-2899 and ask to speak with the patient advocate. The advocate will typically respond to your concern within one business day.
Patient rights and responsibilities
Quality patient care is a primary concern of Saint Luke's Health System. The goal of patient rights and responsibilities is to improve care, treatment, services, and outcomes by protecting and promoting each patient's rights.
Saint Luke's Health System complies with applicable Federal civil rights laws and does not discriminate on the basis of race, color, national origin, age, disability, or sex. View patient rights and responsibilities.
Language assistance services, free of charge, are available to you. Call 816-932-6145.
Preparing for your visit
Learn more about what to expect during your stay, safety and security, patient satisfaction, advance directives, and privacy. Learn how to access your medical records.
Nominate a nurse
Nominate an extraordinary nurse for a DAISY Award.