Saint Luke's South Hospital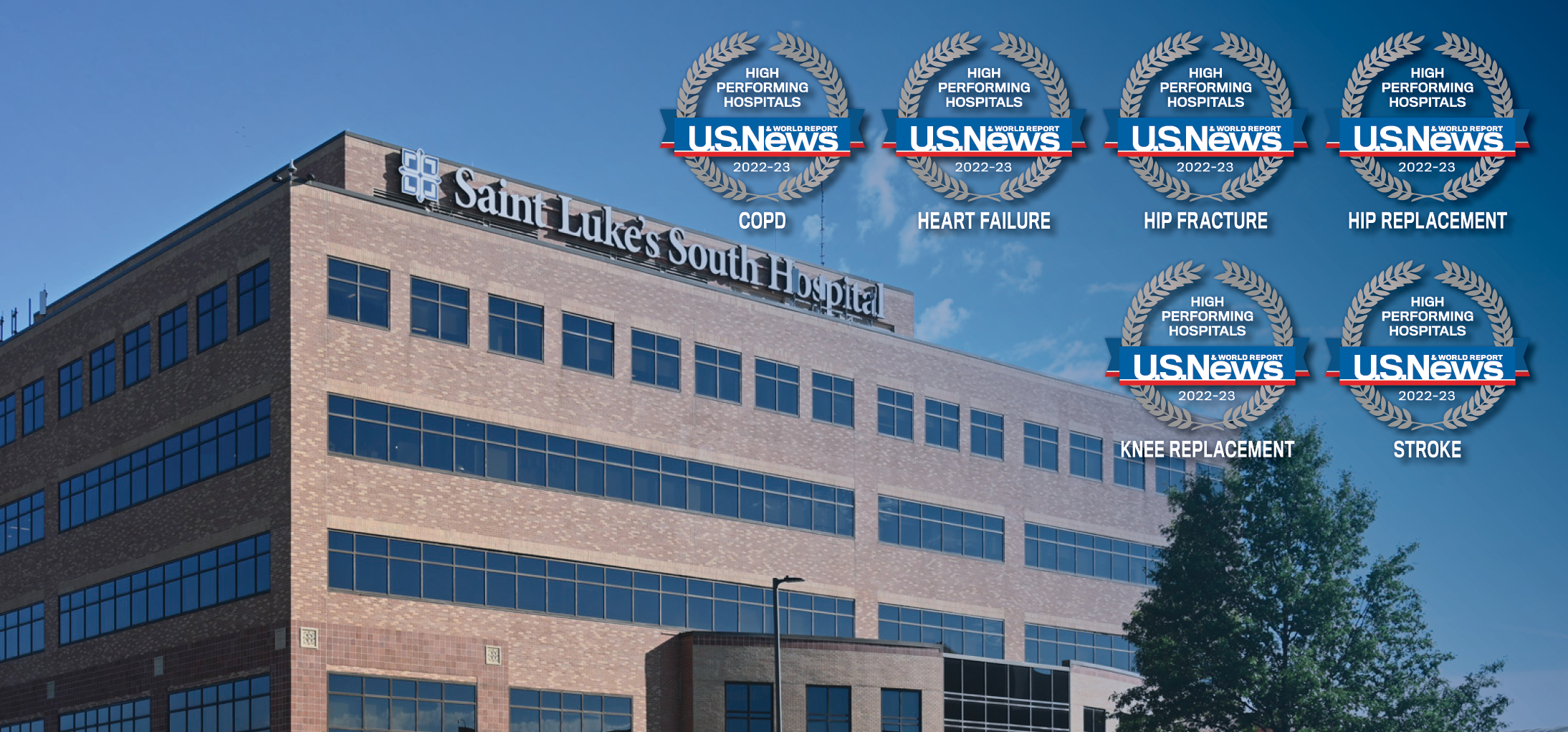 12300 Metcalf Ave
Overland Park, KS 66213


913-317-7000
Billing: 816-932-5678
Gift Shop: 913-317-7895
Volunteer Services: 913-317-7475
Known for its high-quality care, Saint Luke's South Hospital in Overland Park, Kansas, offers:
It also provides comprehensive medical treatment through Saint Luke's Community Hospitals.
Saint Luke's South Hospital has held a five-star rating from the Centers for Medicare and Medicaid Services for six consecutive years. This rating is based on high-quality measures including safety, effectiveness, and patient experience. The hospital has also been certified by The Joint Commission in orthopedic joint replacement for hip and knee, designated a high performer in hip replacements by U.S. News & World Report.
LEADERSHIP
Bobby Olm-Shipman, Chief Executive Officer
Matt Marino, Chief Financial Officer
Julia Woods, Vice President and Chief Nursing Officer
Anna Sahli, Vice President, Operations
---
PATIENTS & VISITORS
Parking and maps
Free parking is available for all patients and visitors. View our campus map (PDF).
Visiting guidelines
Visiting hours are 5:30 a.m. to 9 p.m. daily.
For more information, please review our detailed visitor guidelines.
Smoking Policy
All Saint Luke's Health System locations are smoke-free environments—inside and outside. The use of tobacco, marijuana, electronic cigarettes, and vapes is prohibited in all buildings, parking garages, and surrounding grounds of our hospitals and facilities.
Dining options
The Fountain Café is located on the hospital's lower level, just off the main elevators. We offer fresh food prepared daily, including a variety of cold and hot meals, a salad bar, soups, snacks, deli sandwiches, and grill items. The Coffee Shop is located at main entrance next to gift shop and chapel.
Sending mail/flowers
To ensure prompt delivery, mail and flowers should be addressed using the patient's full name and room number.
Gift shop
The Saint Luke's South Hospital Auxiliary Gift Shop is located off the main lobby. It provides greeting cards, fresh flowers, magazines, gift items, and personal items. For more information, call 913-317-7895. Hours:
Monday, Tuesday, Wednesday, and Friday: 9 a.m. – 4 p.m.
Thursday: 9 a.m. – 7:30 p.m.
Saturday: 12 – 3 p.m.
Spiritual Wellness
A hospital chaplain is available at all times. We welcome clergy members of all faiths. If you wish to be visited by your clergy or one of the hospital chaplains, call Spiritual Wellness at 913-317-7574. The chapel is located near the main hospital lobby, just past the gift shop. It is open 24 hours a day for prayer and meditation.
---
PATIENT INFORMATION
Insurance Accepted
Financial Assistance
Billing
Patient advocate
The Saint Luke's South Hospital Patient Advocate serves as a liaison between patients, their families or representative(s), and the hospital. Call 913-317-7371 and ask to speak with the patient advocate. The advocate will typically respond to your concern within one business day.
Patient rights and responsibilities
Quality patient care is a primary concern of Saint Luke's Health System. The goal of patient rights and responsibilities is to improve care, treatment, services, and outcomes by protecting and promoting each patient's rights.
Saint Luke's Health System complies with applicable Federal civil rights laws and does not discriminate on the basis of race, color, national origin, age, disability, or sex. View patient rights and responsibilities.
Language assistance services, free of charge, are available to you. Call 816-932-6145.
Preparing for your visit
Learn more about what to expect during your stay, safety and security, patient satisfaction, advance directives, and privacy. Learn how to access your medical records.