Interventional Cardiology Fellowship
This one-year Accreditation Council for Graduate Medical Education-accredited fellowship in Interventional Cardiology includes training in coronary and peripheral interventions at Saint Luke's Mid America Heart Institute. Training provides a high-volume interventional experience that includes complex coronary intervention, CHIP/CTO procedures, primary PCI, robotic PCI, advanced coronary imaging/physiology, iliac and femoro-popliteal intervention, pedal access/limb salvage procedures, endovascular aneurysm repair, and venous intervention.
Program training
At the Mid America Heart Institute, Interventional Cardiology Fellows learn how to perform lifesaving cardiovascular interventions from the best cardiologists in the nation.
The training program offers:
High-volume, hands-on interventional cardiovascular instruction.
Access to a renowned, experienced faculty. Most of the faculty received interventional training at the Mid America Heart Institute, Cleveland Clinic, and Mayo Clinic.
Completion of more than 400 coronary interventions and 50-100 peripheral interventions. Coronary interventions include 50-100 CTOs, 20-30 rotational atherectomies, and 20-30 Impella insertions.
Coronary interventions that include: complex coronary intervention; high-risk PCI; CTO PCI; cardiogenic shock; primary PCI; rotational and laser atherectomy; balloon lithotripsy; IVUS and OCT imaging; physiologic testing with iFR and FFR and robotic PCI (Corindus); and a high percentage of radial interventions.
Peripheral interventions that include: iliac and femoro-popliteal intervention; critical limb ischemia/limb salvage PTA including pedal access; carotid/brachiocephalic intervention; mesenteric/renal artery intervention; drug coated balloon angioplasty; balloon lithotripsy; excisional; orbital and laser atherectomy; EVAR/TEVAR; pulmonary and deep venous thrombectomy; iliac venous stenting; and endovenous laser ablation/ambulatory phlebectomy.
Opportunities for conducting robust interventional research. The interventional group contributes to the 150-180 publications that the Mid America Heart Institute puts out annually in high-impact journals such as JAMA, Circulation, JACC, JACC Intervention, and NEJM.
Excellent research support from dedicated statisticians and research staff. Research involves participations in large multicenter trials (COMPLETE, Short DAPT, Shockwave PAD, Shockwave CAD) as well as institutionally developed registries (OPEN CTO, OPTIMUM).
Subspecialty training
Fellows who complete the one-year Interventional Cardiology Fellowship are eligible for the Structural Fellowship. One fellow is chosen per year and will receive experience in the performance of TAVR, MitraClip, TMVR, LAAO, ASD/PFO, and Melody TPVR procedures.
2021 Subspecialty breakdown
Coronary

PCI: 2,000
Complex/Multivessel
CTO PCI: 200
STEMI PCI: 300
Impella/MCS: 70
Rotablator: 175
Laser atherectomy
Shockwave (IVL)
IVUS/OCT
iFR/FFR
Robotic PCI

Peripheral

PTA: 700
Iliac/Femoropopliteal
CLI/Limb salvage
Carotid/Subclavian
Renal/Mesenteric
Drug coated balloons
Shockwave (IVL)
Excisional atherectomy
Laser atherectomy
TEVAR/EVAR
PE/DVT/IVC/Venous stents

Structural

TAVR: 250
MitraClip: 80
TMVR
LAAO: 125
ASD/PFO: 30-40
Melody TPVR
TV intervention
PDA/Coarctations

Other

Percutaneous coronary intervention: over 400
Chronic total occlusion PCI: 50–100
Rotational atherectomy: 20–30
Impella/MCS: 20–30
Peripheral intervention: 50–100
Achievements and accolades
The Interventional Fellowship, established in 1987, is one of the top interventional training programs in the country.
The program has more than 75 alumni, including accomplished interventionalists such as Paul Tierstein, MD (Scripps) and Gregg Stone, MD (CRF).
The Mid America Heart Institute performed the world's first primary angioplasty for acute MI in 1981 and trained a generation of interventionalists through angioplasty training courses.
The Mid America Heart Institute's interventional program conducts regular CTO courses and participates in live cases for both the TCT and ACC.
Graduates of the program go on to become thought leaders in interventional cardiology at their institutions and across the country.
Saint Luke's faculty
Program leadership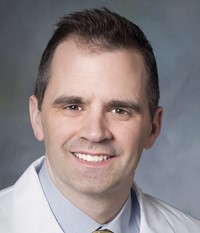 Anthony J. Hart, MD
Program Director
Adam C. Salisbury, MD
Associate Program Director
James Webb 
GME Program Coordinator
Additional faculty
Eligibility
US citizen or J1 visa sponsorship only
Completion of an Accreditation Council for Graduate Medical Education (ACGME)-accredited cardiovascular disease program or its equivalent
Application process 
Saint Luke's accepts applications, conduct interviews, and selects candidates in December. Applications for the University of Missouri–Kansas City Interventional Cardiology Fellowship program are completed through Electronic Residency Application Service (ERAS). Program ID is 1522821040.
More information
We welcome your interest in the Interventional Cardiology Fellowship. For more information, contact James Webb, GME Program Coordinator, Cardiovascular Fellowship Programs at jrwebb@saintlukeskc.org or 816-932-4575.
About Kansas City
Saint Luke's is proud to call Kansas City home. With locations on both sides of the state line, the health system serves more than 2.1 million people and 240 neighborhoods in Kansas and Missouri. USA Today has regularly named Kansas City a top area for affordability, high-quality schools, and low traffic. Learn more at www.visitkc.com.