Making Your Home Safe for Children
You want your home to be a safe haven for your kids. Keep in mind that every year, thousands of children are hurt or killed in home incidents. But with a little care, many incidents can be prevented. Follow these tips to keep all areas of your home safe for children.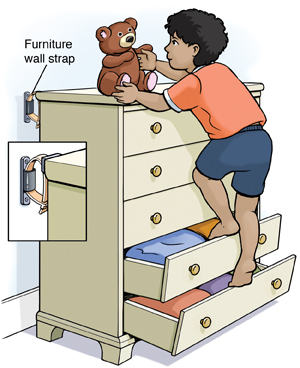 Being prepared for emergencies
Keep a list of emergency information in every smartphone and near every landline phone in the house. This should include your address and emergency phone numbers such as the number for Poison Control (800-222-1222). Also consider learning basic first aid and CPR. And keep first aid supplies on hand. Check the American Red Cross website at www.redcross.org for what to include in a home first-aid kit.
General tips
Tips include:
Look for safety hazards in your home from your child's viewpoint. Get down on your hands and knees and look around. Think about what looks enticing to a child.

Use plug protectors on all unused electrical outlets. Keep electrical appliances unplugged when not in use.

Make sure no electrical cords run underneath rugs.

Keep rooms free of small toys, plastic bags, balloons, batteries, detergent pods, and other items that could pose a choking hazard.

Keep all matches and lighters out of children's reach.

Use window stops so windows don't open more than 4 inches. Also, open windows from the top.

Empty buckets when not in use and turn them over. Even one inch of water can pose a drowning risk for small children.

Don't keep a firearm anywhere in the house. If you must keep one, lock up all gun-related materials in a gun safe or lockbox whenever they are not in use. Store the gun and ammunition separately. Be certain children and teens can't get to keys or combinations to lockboxes or gun safes.

Teach your child that if they ever come across a gun, they should never touch it. They should tell you right away.
Just as you would ask about adult supervision, before your child visits another home, ask if there are unsecured guns in the house. If the answer is yes, you may want to reconsider the play date. According to the American Academy of Pediatrics, more than a third of all unintentional shootings of children take place in the homes of their friends, neighbors, or relatives.

Install smoke alarms on every level of your home, including in the basement and outside all sleeping areas.

Test smoke alarms monthly, and change the batteries once a year or when the alarm chirps.

Don't disable smoke alarms, even for a short time.

Install carbon monoxide detectors near sleeping areas:

Be aware that carbon monoxide is a gas that you can't see, smell, or taste—and it can be deadly. It can be emitted when heating and cooking equipment are not working properly.

Test carbon monoxide detectors monthly.

Consider buying a combination smoke alarm/carbon monoxide detector.

For young children:

Don't use a baby walker with wheels. This kind of walker can be dangerous, especially near stairs.

Guard stairs at the top with hardware-mounted gates. If possible, install the gates at both the top and bottom of the stairs. Also, keep stairs carpeted, and don't clutter them with tripping hazards.

If you use a playpen, make sure its sides don't pose a safety risk. The playpen should have small-mesh sides (less than ¾ inch mesh) or closely spaced vertical slats (less than 2⅜ inches apart).
Kitchen
Tips for safety in the kitchen include: 
Keep knives, scissors, and other sharp utensils out of children's reach.

Cook on back burners whenever possible. Keep handles of pots and pans turned toward the back of the stove.

Keep a working fire extinguisher in the kitchen. Make sure all adults in the home know how to use it.

Carefully store all toxic household products, such as cleaning supplies, detergent pods, medicines, and vitamins. Keep them in their original containers. And lock them in a cabinet out of reach of children.

If your child uses a highchair, always strap them in.

Don't use tablecloths. Small hands can grab them and pull dishes and other items onto small heads.
Bathroom
Tips for safety in the bathroom include: 
Keep nonskid bathmats on the floor and in the tub to prevent falls.

Store medicines and cosmetics in locked containers out of children's reach.

Keep hair dryers and other electric appliances unplugged and out of children's reach. Make sure each has a ground fault circuit interrupter (it does if its plug has two buttons labeled "set" and "reset").

To prevent drowning, always supervise young children in the bathroom. Pay extra attention when they're in the tub. Never leave a child alone in water. And drain the sink or tub when finished.

Keep your hot water heater at 120°F (48.9°C) or lower to prevent scalding. Be aware that a child's skin is more sensitive to heat than an adult's and can burn more easily.

Use toilet seat locks to prevent toddlers from drowning.

Use doorknob covers on bathroom doors. These require you to squeeze them to open the door, which is hard for young children.
Your child's bedroom
Tips for safety in your child's bedroom include:
Keep diaper changing supplies within reach of the changing table. Never leave your baby unattended on the changing table. And use the safety strap if the table has one.

Keep cords for drapery and blinds out of reach of children. Your child could get strangled by them.

Make sure a toy box does not have a heavy lid that could trap your child. Install a safety hinge that holds the lid open, or remove the lid.

Keep the bed away from windows.

Use bunk beds only for older kids.

Secure large pieces of furniture. For example, use a wall strap for a chest of drawers so it can't be pulled over.

Try these tips to keep your child's crib safe:

Remove toys, pillows, and stuffed animals. Also remove bumper pads and loose blankets. All of these items could be used as steps for climbing out of the crib. They could also pose a suffocation hazard.

Make sure the crib slats are no more than 2⅜ inches apart. Wider slats can trap a baby's head.

Check the crib for small parts that a child could choke on.
Family room
Tips for safety in the family room include:
Keep furniture edges and corners covered to prevent injuries.

Secure large TVs and other heavy furniture with a wall strap. This keeps them from falling over. And use a TV stand that is the correct size to hold your TV.

Place a barrier around fireplaces and other heat sources.

Keep cords for drapes and blinds out of children's reach.

Try to keep electrical cords out of children's reach. And make sure none are frayed.

Keep furniture away from windows. This prevents children from climbing up on the furniture and falling out of the window.

Keep all houseplants out of children's reach.

Remove loose rugs or secure them to the floor.
Keeping kids of all ages safe
Your child's safety needs will change as they grow up. As a rule, infants need protection from safety hazards. Toddlers and preschoolers need supervision. And school-aged kids need help learning how to stay safe. Use every opportunity to teach your children, in an age-appropriate manner, how to be safe.