Low-Fat Cooking Tips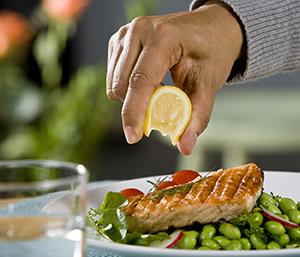 To eat less fat, you may need to learn some new ways to cook. But that doesn't mean you have to eat bland, boring food. And it doesn't mean cooking needs to take any more time. Here are some tips for cooking and seasoning foods with less fat.
Try new cooking methods
Broil, roast, bake, steam, or microwave fish, chicken, turkey, and other meats.

Remove skin from chicken and turkey and trim extra fat from meat before cooking.

Sprinkle herbs on meat, chicken, and fish, and in soups.

Cook in broth instead of fat.

Use nonstick cooking sprays or nonstick pans.

Steam or microwave vegetables without adding fat. Serve with herbs, lemon juice, vinegar, or fat-free butter-flavored powder.

To flavor beans and rice, add chopped onions, garlic, and peppers.

Chill soups and stews. Before reheating and serving, skim off the fat.

When you add fat, use canola or olive oil instead of butter or lard.
Lighten up your recipes
In soups and sauces: Replace whole milk or cream with low-fat milk, evaporated fat-free milk, or nonfat dry milk.

In puddings and other desserts: Replace whole milk or cream with low-fat milk or fat-free condensed milk.

To make dips and toppings: Use low-fat or nonfat cottage cheese or sour cream.

To make salad dressings: Use nonfat yogurt or low-fat buttermilk.

In place of 1 whole egg in recipes: Use 2 egg whites or 1/4 cup egg substitute.

In place of regular cheese: Use fat-free or reduced-fat cheese.