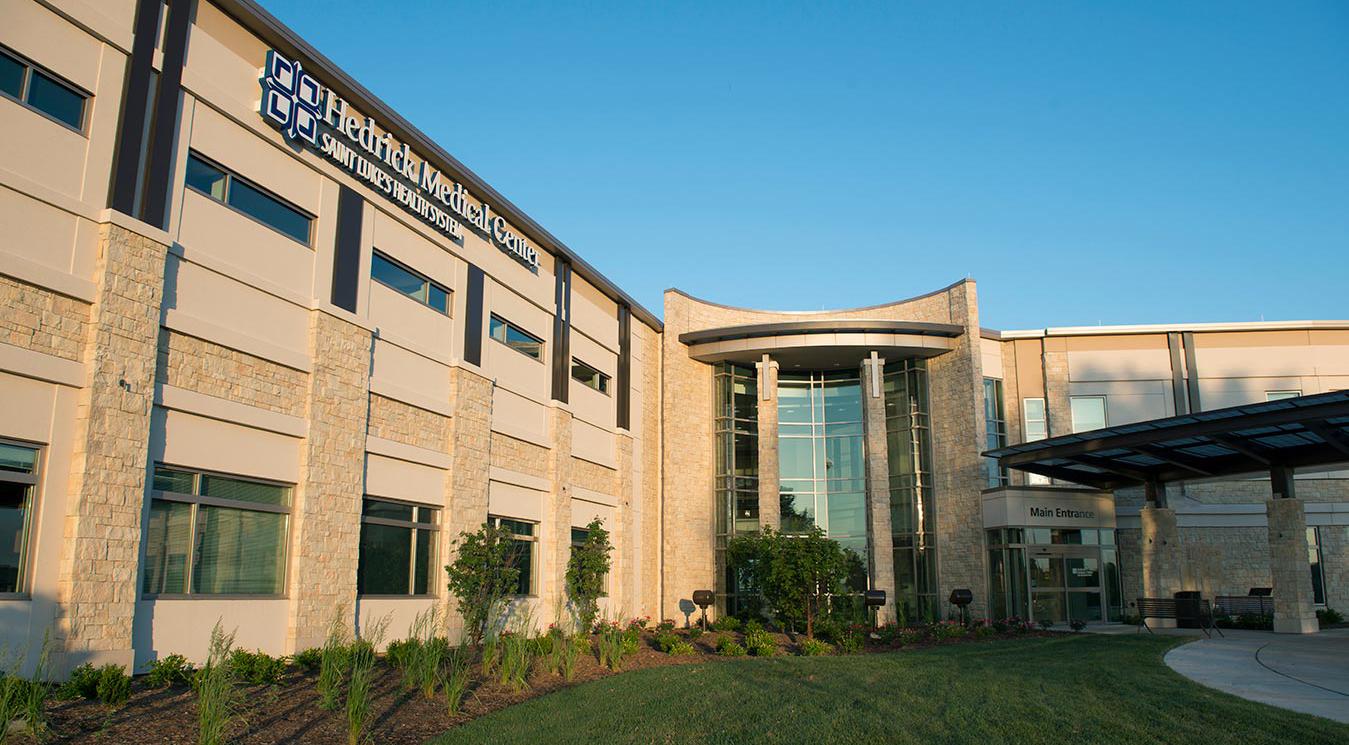 2799 N Washington St
Chillicothe, MO 64601
660-646-1480
Foundation and Volunteers: 660-214-8107
Gift Shop: 660-214-8117
Medical Plaza: 660-646-2682
Scheduling: 660-646-5522
Hedrick Medical Center in Chillicothe delivers high-quality health care to Livingston County, Missouri, and its surrounding communities. A city-owned, nonprofit critical access hospital, Hedrick Medical Center is a Joint Commission-accredited hospital in north-central Missouri. The hospital was awarded the prestigious 2019 Guardian of Excellence Award by Press Ganey for reaching the 95th percentile for clinical quality.
The 25-bed acute care hospital offers comprehensive care, including a 24-hour emergency department staffed by board-certified physicians, inpatient and outpatient diagnostic testing, a Women's Center featuring 3-D mammography, inpatient and outpatient surgery, inpatient and outpatient rehabilitation services, an Intensive Care Unit featuring eICU, a specialty clinic, and primary care offices adjoining the facility.
LEADERSHIP
Daren Bass, Chief Executive Officer   
Catherine Hamilton, Interim Administrator and Chief Nursing Officer   
Paula Littleton, Chief Financial Officer  
Karen Gillespie, Director of Human Resources
---
SPECIALTIES & SERVICES
Ophthalmology
---
PATIENTS & VISITORS
Visiting guidelines
As we work to protect the health and safety of everyone at our hospital, we have temporarily revised our visiting guidelines.
Smoking Policy
All Saint Luke's Health System locations are smoke-free environments—inside and outside. The use of tobacco, marijuana, electronic cigarettes, and vapes is prohibited in all buildings, parking garages, and surrounding grounds of our hospitals and facilities.
Dining options
The Garden Cafe is located near the main lobby. Fresh food prepared daily, including cold and hot meals, salad bar, soups, snacks, and pre-made sandwiches. Vending machines are located on the first floor in the hallway between the laboratory/imaging department, the Emergency Department, and in the corridor between the hospital and Medical Plaza.
Sending mail/flowers
To ensure prompt delivery, mail and flowers should be addressed using the patient's full name and room number.
Gift shop
Located off the main lobby, it provides greeting cards, gift items, and personal items. Hours:
Monday – Friday: 8 a.m. – 4:30 p.m.
Spiritual Wellness
The hospital chapel is located on the second floor near the main lobby. Chaplains are available. Ask a nurse or hospital operator.
Auxiliary
Hedrick Medical Center Auxiliary offers a wide range of volunteer opportunities. Join the company of our outstanding volunteer team to make a difference in your community.
---
PATIENT INFORMATION
Insurance Accepted
Financial Assistance
Billing
Patient advocate
The Hedrick Medical Center Patient Advocate serves as a liaison between patients, their families or representative(s), and the hospital. Call 660-358-5774 and ask to speak with the patient advocate. The advocate will typically respond to your concern within one business day.
Patient rights and responsibilities
Quality patient care is a primary concern of Saint Luke's Health System. The goal of patient rights and responsibilities is to improve care, treatment, services, and outcomes by protecting and promoting each patient's rights.
Saint Luke's Health System complies with applicable Federal civil rights laws and does not discriminate on the basis of race, color, national origin, age, disability, or sex. View patient rights and responsibilities.
Language assistance services, free of charge, are available to you. Call 816-932-6145.
Preparing for your visit
Learn more about what to expect during your stay, safety and security, patient satisfaction, advance directives, and privacy. Learn how to access your medical records.